Healthy Eating: "Everything in moderation, including moderation" – my mantra for life. Check here regularly for recipes I have found to be fun, fresh, and flavorful.
2 Great Recipes from Harumi Yoga. Find our more at HarumiYoga+
Quinoa Salad
Quinoa is great for anyone gluten-sensitive, and anyone looking for light and tasty dish that delivers fiber, protein and calcium.
Ingredients:
1 1/2 cups quinoa (washed and roasted until slightly brown)
1/2 tablespoon each of cumin, coriander, sea salt, and onion powder
1/3 cup diced carrots, celery, and red onion
1/3 cup washed and chopped fresh parsley
1/3 cup sunflower seeds
3 cups vegetable stock
Use the widest pan you have. If the mixture cooks in a narrow deep pan it tends to clump up. Add all ingredients into the pan and simmer until all moisture is absorbed. Serve and enjoy!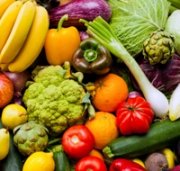 Grilled Summer Vegetables (from Whole Foods)
When eggplant, peppers and summer squashes are in season, use a simple cooking method such as grilling to fully enjoy them and benefit from their nutrients.
Ingredients: Serves 4
1 green bell pepper, quartered
1 eggplant, cut crosswise into 1/2 inch-thick rounds
1 red bell pepper, quartered
1 yellow squash, cut crosswise on the bias into 1/2 inch-thick slices
1 zucchini, cut crosswise on the bias into 1/2 inch-thick slices
2 tablespoons chopped herbs, such as tarragon, thyme and/or basil
2 tablespoons red wine vinegar or sherry vinegar
1/4 teaspoon fine sea salt
1/4 teaspoon freshly ground black pepper
Method:
Preheat grill to high heat. Working in batches, arrange veggies on the grill and cook, flipping once, until tender and just beginning to char, 3 to 5 minutes for the zucchini and squash, 6 to 8 minutes for the peppers and eggplant. Spread out to cool slightly on a large baking sheet.
Roughly chop hot veggies into bite-size pieces and toss with herbs, vinegar, salt and pepper on a large platter. Serve warm, at room temperature or cold.
Cumin-Lime Confetti Salad (from Weight Watchers.com)
prep time 45 minutes – serves 10
• 30 oz canned black beans, rinsed and drained
• 2 cups shelled, cooked edamame, drained, and cooled (about 12 oz)
• 10 oz. thawed and drained frozen corn kernels (about 1 3/4 cups fresh corn)
• 1 sweet red bell pepper, chopped
• 1 yellow pepper, chopped
• 1 orange pepper, chopped
• 1 medium red onion, minced
• 1/2 cup minced fresh cilantro
Vinaigrette
• 3 Tbsp fresh lime juice
• 3 Tbsp olive oil
• 1 Tbsp lime zest
• 1 Tbsp kosher salt
• 2 tsp sugar
• 1 tsp cumin seeds
In large bowl, combine black means, edamame, corn, peppers, onion, and cilantro.
In a small bowl, whisk together vinaigrette ingredients. Drizzle vinaigrette over bean mixture and toss to coat. Serve chilled or at room temperature. Yields about 1 cup per serving.
Note: This salad can be made a day ahead. Just refresh with additional lime juice as needed before serving.
More About Healthy Eating: