Feeling stressed? Try One of these helpful tips to de-stress.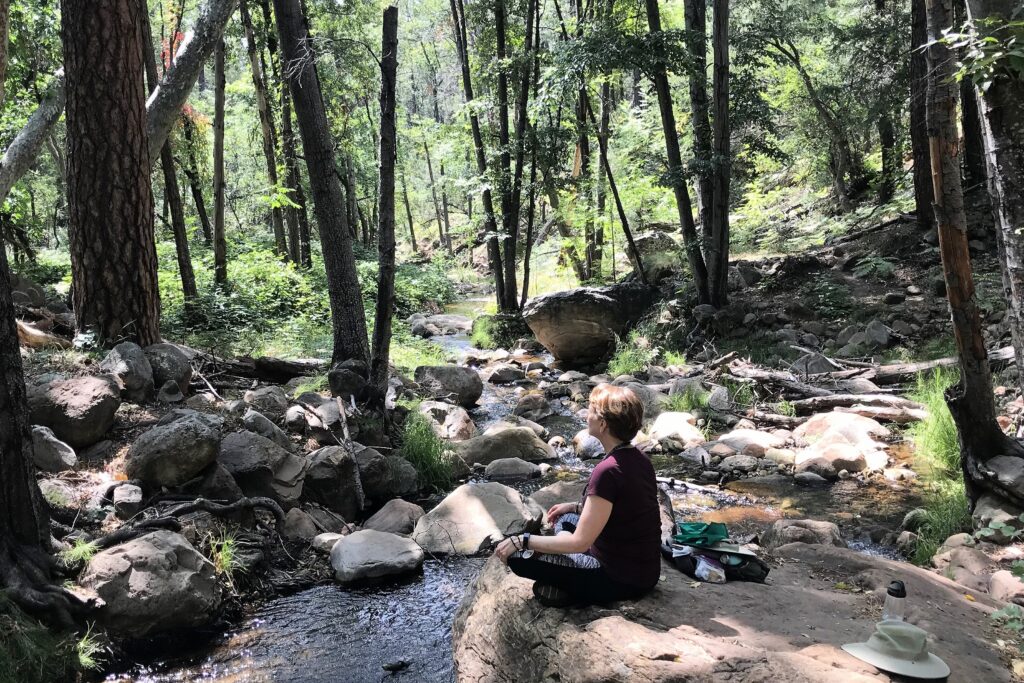 "Self care is different for everyone. You don't have to be a vegan-eating, yoga-doing, meditation-practicing Buddhist. Self care is simply making time for yourself to do the things that make your soul shine. Whatever those things are." – Dominee
I'm sure you don't need to be reminded that tomorrow is the 2020 U.S. Presidential Election. But I'll bet you might need to be reminded that now is a great time to self-care.
In the photo above I am meditating next to Horton Creek in Payson, Arizona. It's the closest I've come to heaven in the past few months, amidst the coronavirus, the election and one of the hottest summers on record for the Sonoran Desert. Hiking to this sacred place by the crystal clear water, plopping myself down, listening to the birds, smelling the fresh air, was exactly what I needed to recharge my batteries and de-stress.
What do you need?
Michael Warden, writer, explorer, poet, and life coach came up with the following list of ways to self-care. He says, "It's Election Week. Regardless of how the vote turns out, this is going to be a stressful week for Americans, and even for the world at large. So this week, as we all face this uncertainty together, I just wanted to remind you to take care of yourself…to be mindful of the stress you may be feeling, even if it's just a low-level anxiety buzzing in the background, and to be kind to yourself and to do a few things throughout the week to help yourself lower your stress and feel better."
Self care doesn't need to take a lot of time and some of these things take only a few minutes. I hope you'll pick a few to do today, tomorrow and every day this week.
Sleep 8 hours.
Turn off all technology at 8 pm.
Share your troubles with a trusted friend.
Pray for your enemies.
Bear hug every member of your family f you can.
Say "I love you" to three of your closest friends.
Make a list of everything that's troubling you, and surrender it to God.
Take 10 deep-belly breaths when you wake up, before lunch, and before you go to bed.
Go for a silent walk.
Pet your dog (better yet, take it with you on your long silent walk).
Don't touch any technology before breakfast.
Walk at 50% your normal speed.
Roughhouse with your children.
Get into nature, even if it's just a drive through the countryside.
Listen to soothing or uplifting music.
Get a massage.
Take a long hot shower.
Read a good book that helps you escape.
Watch a good comedy flick.
Read poetry
Workout every day, even if it's just for 15 minutes.
Take the week off from scrolling the news or social media.
Work in the garden.
Thoroughly clean your house.
Lay down your thoughts and feelings in a journal.
Do an act of service for someone less fortunate than you.
Play a game outside with friends.
Prepare your favorite comfort meal, and enjoy it with people you love.
Every night before bed, name three things you're grateful for that happened that day.
Sing…and while you're at it, why not dance a little?
Self care may be different for everyone, but everyone needs to self-care.
And now is the perfect time to do it.
To read more from Michael Warden go to Michael Warden; for more self care tools go to Fuzzy Red Socks