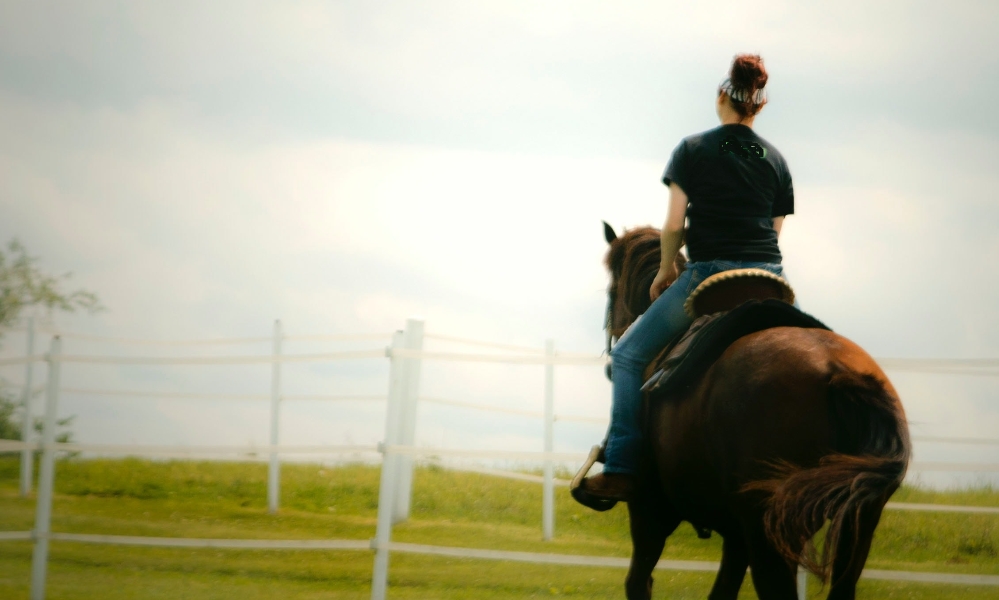 I recently went horseback riding, for the first time in years, through gorgeous quaking aspens of the Grand Teton National Park. I forged rolling streams on a skittish mare who did not like the river. She was constantly challenging me to see who was more in charge – was she or was I? I could have complained to the Cowboy in Charge who was now closely watching me (so my horse would do as she was told) or I could see this as the opportunity it was to honor independence and playfulness and celebrate the chance to have some fun.
I had a choice. I could ride cautiously constantly worrying that this stubborn animal would toss me into the river. Cowboy Joe instructed me to "Keep kicking her, show her who is in charge!" Or I could just trot in reckless abandon along the gorgeously lush valley floor of Jackson Hole, Wyoming, while feeling the rush of the crisp air against my face.
I chose the latter. I chose to let go of the fear of falling and to grab the chance to embrace the spirit of the wild. I chose to be playful and have fun.
Fun, you say? Be playful? What does that mean?
Clare Ansberry of the Wall Street Journal says, "Many adults forget to have fun. They've spent the last 40 years showing up for work every day, paying off mortgages, getting kids through school, and taking care of aging parents. Having fun and being spontaneous – a key element of fun and play – gets lost. It's considered non-productive, which makes some people feel guilty. Fun is important at any age, but can be even more beneficial as we grow older. The very things associated with it – laughter, levity, enjoyment, diversion – can act as antidotes to stress, depression and anxiety."
"What do you do to play?" Deb Carriger Richards, a spiritual director and writer in Des Moines, Iowa, asked a group of women to respond to this question.
Few could readily answer. Some gave examples they almost felt guilty about such as Kim, who buys seven-dollar bath bombs and treats herself to a home spa experience; or Suzanne who leaves her husband and boys on Sunday evenings to retreat to the basement and watch Victoria on PBS. Cindy visits the costume jewelry counter in a local department store and buys all the sparkly bangle bracelets she can afford at a deeply discounted price.
Richards says, "Play is the portal through which we actualize our imaginings, our childhoods. Play encompasses infinite variability, and is almost impossible to define. Maybe we struggle with it because we tend to think of play as pretend vs. real, or make-believe vs. reality. In actuality, what play does for us is blur the lines between the two, moving us into a free connection with pure possibility. And when we experience that, we see, we recognize and we welcome it."
There was no doubt I felt like I was playing on the back of that crimson-colored mare yelling "Yee-haw" as we trotted through the meadow. I was imagining being a young cowgirl, if only for a moment, and was smiling from ear to ear. It felt fabulous to pretend – and when the ride was over, I may have been walking a little funny, but I felt younger, energized and happy.
And if a little bit of playing can do that? Then I'm all in for adding to my self care regimen to play more and work less.
Read more by Clare Ansberry at Wall Street Journal
Find out more about Deb Carriger Richards at Deb Carriger Richards
Find more self care tools at Fuzzy Red Socks